by Karen Berger
Islands Magazine
How one woman set out to welcome tourists to Chumbe Reef while preserving its fantastic sea life for the future.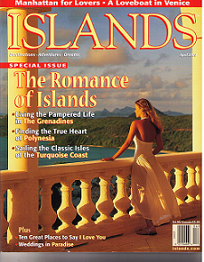 On first glance, Chumbe Island doesn't look like the kind of place you'd make a special effort to get to. Only about a half mile long and 200 yards wide, this forested dot of fossilized coral rock sits in the channel that separates the island of Zanzibar from mainland Tanzania. For most of its history Chumbe has been ignored: The only visitors have been fishermen, the only human inhabitant a lighthouse keeper.
But sometimes the appeal lies beneath the surface, or as in this case, beneath the sea. Look underwater at Chumbe (pronounced CHUM-bay) Island, and you might feel like you've wandered into The Wizard of Oz precisely at the moment when the world turns from black-and-white to color. There visitors can see one of the most diverse shallow coral gardens in the world, representing nearly all of East Africa's coral species, and a large population of fish and other sea life.
The reef is the crown jewel of Chumbe Island Coral Park, the passion and brainchild of Sibylle Riedmiller, who has spent the past nine years battling funding shortages, cultural differences, government bureaucracy, logistics, geology, and even the weather to establish what is billed as the world's first private marine conservation park.
The story began in 1991, when Riedmiller was sailing in the area and came upon the isle.
"I wasn't impressed," she says of her first view of Chumbe Island. "It didn't have a protected harbor, so you could only land there at certain tides. There was a small beach, and lots of rock. And it was a cloudy, windy day. It wasn't inviting."
But at the time, Riedmiller – a strong looking woman with the distant gaze I associate with people who spend a great deal of time outdoors – had a compelling reason to come back and take a second look.
"I was searching for a coral reef to save," she says simply, as if that were an ordinary goal, the sort of thing you'd put on your list of New Year's resolutions, between "lose weight" and "contribute more to charity."
Riedmiller had come to Tanzania as a foreign-aid worker in 1982 to manage environmental and agricultural education projects for a German relief agency. A scuba diver with an interest in marine biology and a passion for east Africa's coral reefs, she arrived as an environmental education consultant in 1990, just as the Tanzanian island was experiencing a boom that had transformed it into what she called the "Wild West of tourism."
"Money was coming in, tourists were coming in, and hotels were being built, but overdevelopment and over-fishing were threatening the reefs; something had to be done," she says. "I had become interested in the idea of private eco-tourism – the notion of developing a tourist site while helping to save a resource and provide environmental education for schoolchildren."
So, with both a problem and its solution in mind, she went looking for a reef. Finding one wasn't so easy. By the time she saw Chumbe Island, Riedmiller had been all around Zanzibar checking out potential sites.
"There was always a problem," she says now. "The reef was too far from transportation to make it viable for tourists. Or a fishing-based economy stood in the way, or there was opposition from the government. Or the problems that were facing the reef were too extensive to be addressed by a small project."
Thus, despite her underwhelming first impression of Chumbe, she was willing to take another look. On her next visit, she went underwater, snorkeling while being towed by a boat. "It was like flying," she recalls. "And what I saw, I just couldn't believe. I can't describe it," she says, momentarily and uncharacteristically stumped for words. "I had never seen anything like it."
At that moment, she knew: Chumbe island — small, uninhabited, conveniently located just seven miles from Zanzibar's commercial center – was the reef she would set out to save.
While finding the reef was hard, the rest of the process was a lot harder. "If I had known then what I know now, I'd never have taken this on," Riedmiller says. "There have been problems from A to zed."
The first problem was a basic one: getting people to take her seriously. After making some headway on that front, she lobbied for official protection for the reef, which became a park in 1994. Then there was funding to be secured. When nonprofit agencies proved too slow, she used her own money to lease a plot of land on the island from the government.
Still, there was the high cost of implementing and maintaining such high-tech building components as solar panels and pumps. There were expenses and delays regarding permits and leases. And there was the problem of water: The island was uninhabited because it lacked a natural source of fresh groundwater. Even the boat – a traditional dhow – that was going to be used to transport tourists to the island was battered and smashed by a storm.
But Riedmiller persisted, and nine years after she first saw the island, her dream has yielded remarkable results, which I am shown by Jan Huelsemann, one of three architects who worked on the project.
"The point of eco-architecture is to blend into the environment, to use local material as much as possible, to have minimum impact," he says while leading me around the visitor's center, which has been grafted onto the old residence of the lighthouse keeper. Part of that old structure has been deliberately left in ruins "to show the building's ancestry," Huelsemann adds.
The center is made of local materials – makuti (palm thatch), coir rope (woven from coconut husk fibers), poles made from the wood of the native evergreen casuarina tree – and is topped by a huge thatched roof that shelters it like an oversize umbrella. The building sits on its rocky promontory like something that has been planted rather than constructed. I note that the walls, arches, and soaring roof define space without confining it, and I mention that I don't quite know if I'm indoors or out.
"That is exactly the point," Huelsemann says, sounding pleased. "You can see the shell shape of the roof, which defers to sea forms. And the arches are a traditional design element here."
But the roof is more than an impressive design: It's also part of the water cachement system. Rain falls on the thatch and runs down to a gravel bed, where it is filtered into underground cisterns. The water is then pumped up to showed and faucets. No waste is discharged into the sea" Gray water is funneled to the gardens, and composting toilets turn solid waste into fertilizer. Each bungalow has its own water collecting roof, cistern, composting toilet, and solar energy panels, which provide the electricity. The construction took four and a half years.
Along the way, Riedmiller has had to work hard to earn the support of local residents, some of whom previously fished on the now-protected part of the reef, and who, at least initially, looked upon the project as the silly idea of yet another crazy mzungu ("white foreigner").
"Did you know that the Swahili language does not have a word for coral?" Riedmiller tells me at one point. "They used to call it mawe na miamba, which means 'stones and rocks.' But now they are starting to use the word matumbawe, which means 'place where fish hide and breed.' We have to educate the people about the importance of conservation; and of course, they have to benefit from conservation, with jobs and economic return.
When Riedmiller talks about jobs, she doesn't only mean the cooking and cleanup jobs that normally fall to local people when foreign investors arrive in a developing country. She has given locals a stake in the project. One is Yussaf Said Omar, whom Riedmiller describes as a "brilliant guide" and who is one of five former fisherman she has trained as park rangers. Six years ago, Said Omar spoke only a mattering of English; now, as he shows me around the island, he confidently tosses about words like "polyps," "guano," and "coral bleaching" in discussion of concepts that are integral to coral reef conservancy.
The rangers help build nature trails and educational exhibits, such as a series of floating stations that allow even small children who can't swim to use masks and snorkels to view the coral firsthand. They also work to convince fishermen to avoid the protected part of the reef, explain coral reef ecology to visitors, and assist with research and monitoring of the reef.
One of Said Omar's jobs is to help volunteer scientists count fish and coral species for a list of what's living on the reef: To date, the list includes about 200 species of coral and 379 species of fish. More are added to the list each year, including the most exciting discovery to date – a heretofore unknown coral species, which was named Oulophyllia chumbensis, after the island.
Like Ridemiller, I really get to know Chumbe only by going beneath the surface. Said Omar and I slide off the boat into the water, and as I submerge, I come face to face with an explosion of color. It looks as if all 370-some species of fish are right there right then, and I wonder how you would even begin to count them. Said Omar directs my attention to a lobster hiding in a deep rock crevice. Nearby, a damselfish zealously guards its patch of anemone. A school of glassfish flickers, like liquid silver.
Floating face down, it occurs to me that anyone who wonders what just one person can do should have a talk with Sibylle Riedmiller – and then go for a swim on her reef.